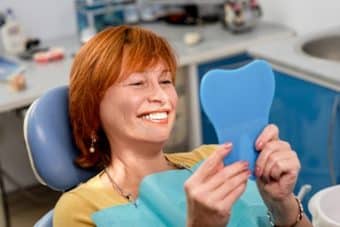 Implants or Dentures?
December 5th, 2016
Choosing the Right Dental Procedure for You
The American Association of Oral and Maxillofacial Surgeons research has shown that 70% of adults ages 35 to 44 are missing at least one tooth. This does not mean facing life with missing teeth is the only option. Dental implants and dentures are two options available to individuals with missing teeth. Unsure of the choice that is right for you then read on.
Dental Implants
For those who are missing teeth but have a healthy jaw and gums then dental implants are an option. Implants are replacement teeth that are surgically placed into the jawbone. When they are well taken care of, implants can last up to twenty years. Most individuals look to dental implants when they have one or two teeth missing. Dentistry has advanced to the point where dentists will match your new implants to the rest of your teeth.
Dentures
Individuals who are missing many teeth or have a weak jaw or gums. Dentures are false teeth that are secured in the mouth with an adhesive. As stated before, they are perfect for those who are missing many teeth or in need of all new teeth. The risk that is being taken is the chances of them slipping out because they were not secured correctly. Once you get a feel for your dentures and how to adhere them, that will no longer be an issue.
El Segundo Implant Dentistry
Dentistry has come a long way over the past few decades and the teeth replacements of the modern world are vastly different. At Avalon Dental Care, we provide the restorative dentistry you need to maintain your glorious smile. To schedule an appointment, contact us today!
El Segundo Office- (310)640-3500.
Carson Office- (310)830-3500.
Share This Story, Choose Your Platform!